The Hundred is an action-packed, unmissable new 100-ball cricket competition that will put you on the edge of your seat." So says the official website for The Hundred, a tournament which has polarised opinions long before a ball has been bowled in anger. The article was originally published on The Roar.
To be perfectly honest with you, you could substitute '100-ball cricket' for 'T20 cricket' and there'd be no difference. Think of the Big Bash League. Now lower your expectations.
There are eight teams based in seven cities across England and Wales: Trent Rockets, based in Nottingham, Southern Brave, based in Southampton, Northern Superchargers, based in Leeds, Welsh Fire, based in Cardiff, Oval Invincibles, based at The Oval, Manchester Originals, based in Manchester, London Spirit, based at Lord's and Birmingham Phoenix, based in Birmingham.
The player draft took place on Sunday night (Monday morning AEDT) as the teams were finalised. Each team was allowed to pick three overseas players and Australian players were well represented. Here's a list of the baggy greens who will be action:
Dan Christian – Manchester Originals – £60,000 ($113,454)
Nathan Coulter-Nile – Trent Rockets – £75,000 ($141,725)
Aaron Finch – Northern Superchargers – £125,000 ($236,208)
Chris Lynn – Northern Superchargers – £100,000 ($189,090)
Glenn Maxwell – London Spirit – £125,000 ($236,208)
D'Arcy Short – Trent Rockets – £125,000 ($236,208)
Steve Smith – Welsh Fire – £125,000 ($236,208)
Mitchell Starc – Welsh Fire – £125,000 ($236,208)
David Warner – Southern Brave – £125,000 ($236,208)
Adam Zampa – Birmingham Phoenix – £40,000 ($75,586)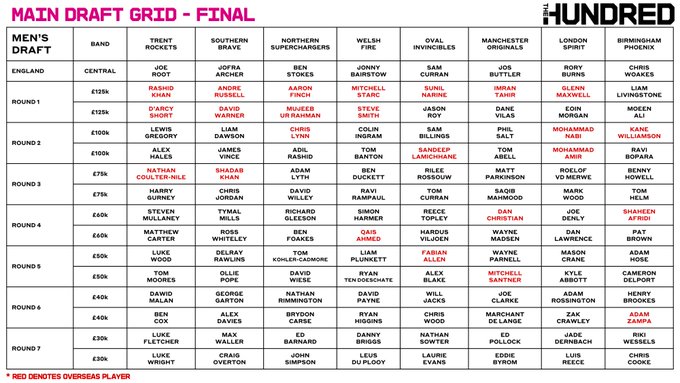 Right from the start of the draft, it was apparent that the majority of overseas players would be Australian because Australia have no international fixtures for the duration of the tournament next July and August. Fixtures will be released soon but we do know that the tournament will be scheduled to coincide with the school summer holidays to maximise the family audience the organisers hope to attract.
However, England already has the T20 Blast in the summer holidays, a highly successful tournament which has a cumulative audience of a million spectators. This tournament has only really come about because of the new television deal from 2020 which sees live cricket return to free-to-air television for the first time in 15 years.
The ECB proposed a new city-based T20 competition, which would have had similar franchises to those in The Hundred, but this was rejected on the grounds that it was too similar to the current T20 Blast. And so The Hundred was proposed which was approved mostly, in my cynical opinion, because county cricket clubs need more money.
"How can we doubt anything that's going to bring us £1.3m every year for the next five years?" Paul Nixon, Leicestershire head coach has said. "That's a third of our annual budget."
These comments come despite Nixon preferring the ECB to concentrate on promoting the existing T20 Blast, which will be marginalised by The Hundred. Leicestershire voted for The Hundred because of the money that will be injected into the county game as a result.
This year, Leicestershire installed cameras in the nets at their cricket academy at a cost of £12,000, which was funded by the volunteer group who runs the tea and cake stall.
As for getting more people interested in the game, all the ECB needed to do was follow the Australian broadcasting model. Tests would then be live on free-to-air television as well as the T20 Blast and the, now former, KIA Women's Super League.
ODIs and T20Is would be exclusively live on Sky Sports, which are less popular among cricket anoraks. Everyone would be happy, right?
Cricket fans without Sky Sports in the UK should consider themselves lucky that they're getting two live men's T20Is, one live women's T20Is as well as selected live matches from both the men's and women's Hundred competitions.
Television schedulers hate Test cricket. They have to make space for five days' worth of cricket but, more and more, only four days is being played so substitute programming has to be scheduled just in case.
Channel 4 still has never-broadcasted episodes of Countdown which were filmed just in case there was no cricket. Channel 4 also had a habit of being strict about play finishing at 6pm so that they could broadcast The Simpsons in its traditional time-slot.
Hopefully, you get my point; cricket messes up TV schedules.
Regardless of what Tom, Dick and Harry think, The Hundred will still go ahead next summer. The proof will be in the pudding. Either way, English cricket will never be the same again.
About the writer – Roaring about all the grand prix action plus anything else that takes my fancy. I'm based in the UK so sometimes may not respond to comments promptly because it's the middle of the night here! Follow me on Twitter @Joshua_T_Kerr